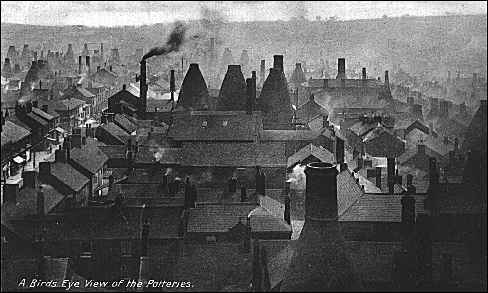 [For more information on the the West Midlands and the Potteries: http://www.thepotteries.org/index.html]
When reading Anna of the Five Towns in the context of our class, we should grapple first with the question: what makes the book modern? It contains a myriad of themes and issues that engage with the constellation of theories and movements that we've previously read and discussed. Some specific points of interest in the text are:
- Psychology: Characters often act out of impulse or with a compulsion that they do not fully understand. Also, Anna herself, very early on, acknowledges the wish to know what others are thinking as well as the difficulty of doing so. How might this connect to our discussion of a society that is achieving an awareness of itself? Is this an awareness of being 'un-aware'?
- Industry and Mechanization: How is industrialization portrayed in the text? For example, refer to the second paragraph of Chapter 6. The narrator seems to describe an underlying beauty to the industrial landscape. How does this help the text engage with a movement like Futurism?
- Religious and Secular ideals: The world that the novel depicts is underpinned by Methodist religion yet surrounded by secular and capitalist pursuits. How do Ephraim Tellwright and the revivalist brought in by the community typify this interpenetration of religious and economic faith?
- Feminist theory: Though we haven't directly engaged with feminist theory, what are your thoughts concerning the treatment of female characters in the text? How do they relate to male figures of authority? Refer to the beginning of Chapter 9 for a specific example from Ephraim Tellwright's point of view.
- What can we see in the text that would be a commentary on capitalism and class structure? Specifically, is it helpful to read the relationship between the Tellwrights, Mynors, and Prices through a Marxist lens?
- In Victorian novels, the ending usually passes a final judgment on characters, where good characters are rewarded (often with marriage) and bad characters are punished. What is the novel's verdict? Is there a clear verdict?